Do you want to attract pollinators to your garden but not sure what will grow in your garden? Are you tired of spending money on plants only to watch them die? Would you like to plant something that blooms freely, attracts pollinators and thrives in most gardens. Try Carolina WIld Petunias (Ruellia carolinensis). We have a great crop on hand now.. Click on the link below to read more about them.
Check the catalog to see to get a good idea of what else we have on hand.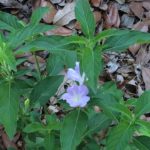 We ship.. or you can come by the nursery to pick them up. We accept cash, checks or cards.  Nursery hours are by appointment. Please text to arrange a time to visit. We will be open today 4/29/23 from now until 6:30.